During the course of the 2002-2003 winter, the A-League/Conference crossover league was set up, partly as a diversion for A-League fans to have some footy to follow during our off-season. The Conference is the next level of football below Division 3 in England -- a league that is semipro but still generates decent attendances and interest.
Our chosen club in this competition is Yeovil Town FC, who went on to win the Conference in style, and earn promotion to the 3rd division and fully professional football for the first time in the clubs 100+ year history.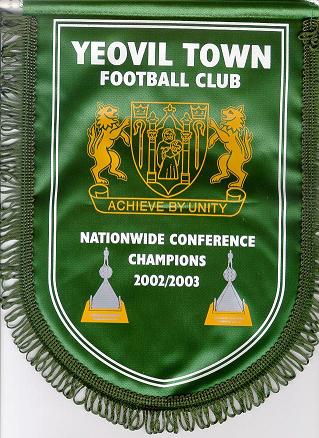 Archives/past issues of On To Victory fanzine can be found online at On To Victory site.
Photo gallery of Yeovil's historic first League match (and win!!) at Rochdale, courtesy of Ciderspace:

2004-2005 Results: Yeovil win Coca-Cola League 2!!! -- in just their second season in League football, Yeovil win the Coca-Cola League Two (fourth tier) and win automatic promotion to League One to face the likes of former European Champions Nottingham Forest next season.
Phil Jevons led the way with 29 goals in 52 appearances, 27 of those goals coming in the League.
Well done Glovers!!!

Current Coca Cola League 2 table
2004-2005 Yeovil Town fixtures:
| | | | | | |
| --- | --- | --- | --- | --- | --- |
| Day | Date | Home | | Away | |
| Saturday | August 7 | Bury | 3 | Yeovil | 1 |
| Tuesday | August 10 | Yeovil | 1 | Darlington | 1 |
| Saturday | August 14 | Yeovil | 2 | Boston Utd | 0 |
| Saturday | August 21 | Notts County | 1 | Yeovil | 2 |
| Tuesday | August 24 | Yeovil | 3 | Plymouth Argyle | 2 |
| Saturday | August 28 | Yeovil | 3 | Rushden & Diamonds | 1 |
| Monday | August 30 | Mansfield Town | 4 | Yeovil | 1 |
| Saturday | September 4 | Yeovil | 1 | Swansea City | 0 |
| Saturday | September 11 | Cheltenham Town | 1 | Yeovil | 1 |
| Saturday | September 18 | Yeovil | 6 | Oxford Utd | 1 |
| Tuesday | September 21 | Yeovil | 0 | Bolton Wanderers | 2 |
| Saturday | September 25 | Shrewsbury Town | 1 | Yeovil | 2 |
| Saturday | October 2 | Yeovil | 1 | Northampton Town | 1 |
| Saturday | October 9 | Rochdale | 2 | Yeovil | 1 |
| Saturday | October 16 | Yeovil | 1 | Macclesfield Town | 2 |
| Tuesday | October 19 | Bristol Rovers | 2 | Yeovil | 2 |
| Saturday | October 23 | Scunthorpe Utd | 1 | Yeovil | 0 |
| Saturday | October 30 | Yeovil | 4 | Chester City | 1 |
| Saturday | November 6 | Wycombe Wanderers | 0 | Yeovil | 1 |
| Saturday | November 13 | Darlington | 3 | Yeovil | 3 |
| Saturday | November 20 | Yeovil | 3 | Southend Utd | 1 |
| Tuesday | November 23 | Yeovil | 1 | Darlington | 0 |
| Saturday | November 27 | Lincoln City | 3 | Yeovil | 1 |
| Saturday | December 4 | Histon | 1 | Yeovil | 3 |
| Tuesday | December 7 | Yeovil | 2 | Kidderminster | 1 |
| Saturday | December 11 | Yeovil | 2 | Grimsby Town | 1 |
| Saturday | December 18 | Leyton Orient | 2 | Yeovil | 3 |
| Sunday | December 26 | Yeovil | 4 | Cheltenham Town | 1 |
| Tuesday | December 28 | Cambridge Utd | 3 | Yeovil | 5 |
| Saturday | January 1 | Swansea City | 0 | Yeovil | 2 |
| Monday | January 3 | Yeovil | 4 | Shrewsbury Town | 2 |
| Saturday | January 8 | Rotherham Utd | 0 | Yeovil | 3 |
| Saturday | January 15 | Oxford Utd | 2 | Yeovil | 1 |
| Saturday | January 22 | Yeovil | 2 | Cambridge Utd | 1 |
| Tuessday | January 25 | Yeovil | 2 | Rochdale | 2 |
| Saturday | January 29 | Charlton Athletic | 3 | Yeovil | 2 |
| Saturday | February 5 | Macclesfield Town | 3 | Yeovil | 1 |
| Saturday | February 12 | Yeovil | 4 | Bristol Rovers | 2 |
| Saturday | February 19 | Chester City | 0 | Yeovil | 2 |
| Tuesday | February 22 | Yeovil | 4 | Scunthorpe Utd | 3 |
| Saturday | February 26 | Grimsby Town | 2 | Yeovil | 1 |
| Saturday | March 5 | Yeovil | 1 | Leyton Orient | 0 |
| Saturday | March 12 | Darlington | 2 | Yeovil | 1 |
| Saturday | March 19 | Yeovil | 0 | Bury | 1 |
| Saturday | March 26 | Boston Utd | 1 | Yeovil | 2 |
| Tuesday | March 29 | Yeovil | 1 | Notts County | 3 |
| Saturday | April 2 | Rushden & Diamonds | 2 | Yeovil | 0 |
| Saturday | April 9 | Yeovil | 5 | Mansfield Town | 2 |
| Saturday | April 16 | Kidderminster | 1 | Yeovil | 1 |
| Saturday | April 23 | Yeovil | 1 | Wycombe Wanderers | 1 |
| Saturday | April 30 | Southend Utd | 0 | Yeovil | 1 |
| Saturday | May 7 | Yeovil | 3 | Lincoln City | 0 |
Green = FA Cup
Red = Carling (League) Cup