September 20, 2006 -- site is in hibernation/"read only" mode. Existing content will migrate in the coming months to SounderCentral.com and new material concerning ECS will appear there. This site will remain up in its current state indefinitely.
April 20, 2006 -- New 2005 USL-1 Championship commemorative supporters scarves are arriving shortly! They'll be available at home matches in section 113, or check the ECS supporters boards at SounderCentral.com for ordering information.
Sounders will be playing friendlies against Chivas USA (and former Sounders Preston Burpo and Brent Whitfield) on May 7 at 6:00pm and an international friendly on July 18 at 7:00pm against Welsh club Cardiff City who currently play in the second-tier Championship in England.
Road trip signups are currently ongoing for the away fixtures in Vancouver on Friday May 26, and P*rtland on Saturday June 3. See the ECS forum on SounderCentral.com to sign up for the trips!
December 30, 2005 -- Added 2006 Fixtures page. Sounders open away to Minnesota on April 23, and the first home match is May 13, also v. Minnesota.
October 4, 2005 -- Sounders win 2005 USL-1 Championship by beating Richmond Kickers 4-3 on penalties after a 1-1 draw and extra time. This is the third championship cup won by the Sounders since their reincarnation in 1994, and the first since back-to-back championships in 1995 and 1996. A crowd of over 8,000 was present at Qwest Field.
Taylor Graham was named USL-1 Defender of the Year by the USL in pre-final awards announcements. CJ Klaas was a finalist for rookie of the year.
September 7, 2005 -- Sounders have received clearance for Cuban F Maykel Galindo, who defected from Cuba during the CONCACAF Gold Cup in Seattle. He will play v. Montreal.
D Scott Jenkins will be retiring following the 2005 season.
All home playoff matches will be played at Starfire Soccer Complex in Tukwila because of NFL scheduling conflicts at Qwest Field.
July 1, 2005 -- Sounders advance out of the US Open Cup second round with a 3-1 win over Salinas Valley of the NPSL, setting up a third round match away to arch-rival P*rtland. The match will be Tuesday July 12, 7:00pm at PGE Park.
We've ordered a second batch of ECS supporters scarves, hopefully to be received sometime in July. The first batch is nearly sold out.
June 22, 2005 -- Sounders will open their US Open Cup campaign Wednesday June 29 at Starfire soccer stadium in Tukwila with a second round matchup against Salinas Valley Samba of the NPSL. The winner faces P*rtland at PGE Park on Tuesday July 12.
The league fixture v. P*rtland on Friday July 8 has been switched from Qwest Field to Starfire due to CONCACAF Gold Cup "conflicts", or more accurately, Soccer United Marketing (SUM) not wanting their temporary grass pitch "damaged" by a USL league match for Gold Cup matches on the 7th and 9th. ECS may be boycotting the Gold Cup in protest, or at the very least, making their displeasure known at the matches.
May 31, 2005 -- Sounders sign MF Jake Sagare, who had been released at his request by Vancouver Whitecaps a couple weeks ago. Sagare had been playing with Yakima Reds in the meantime. Sagare will be available for the upcoming matches in Richmond and Virginia Beach.
May 3, 2005 -- Sounders have announced that 10 home matches will be televised on Comcast Cable's OnDemand service. Matches should be available for viewing within 48 hours following matchday. Details courtesy of the Seattle Pitch.
MF C.J. Klaas was named the ECS/Kell's Man of the Match for his performance v. P*rtland last weekend.
April 28, 2005 -- ECS scarves have been manufactured and awaiting final shipment.
Sounders 2005 Roster is up, barring any last minute signings, especially injury signings to replace MF Andrew Gregor, who broke his foot in the final preseason friendly v. USA U-20's and is out two months. D Danny Jackson and F Craig Tomlinson are also out for the season with knee injuries.
July 20 opponent Sunderland have won promotion from the Coca-Cola League Championship to the Premiership! And sister club Yeovil Town are top of the table in League Two (4th tier) with a result this weekend guaranteeing promotion to League One.
March 14, 2005 -- ECS have finalized the supporters scarf designs, just a couple of font issues to decide upon: Scarves
MF Leighton O'Brien will be transferred to MLS side Real Salt Lake, as reported in today's Seattle Times. As O'Brien is currently under contract to Sounders, RSL will owe some sort of compensation -- rumours are that RSL will play a friendly in May or June v. Sounders, but hopefully the club will get a player in return or some additional transfer fee.
In recent days, F Welton has re-signed for Sounders, and old friend and nemesis MF Andrew Gregor has left P*rtland to return to the Sounders. D Danny Jackson and Zach Scott are also back in the fold.
February 25, 2005 -- ECS is in the process of designing and ordering new supporters scarves. Follow the link for designs under consideration!
MF Jonathan Bolanos has signed for Rochester Rhinos.
February 24, 2005 -- Sounders resign MF/D Billy Sleeth for 2005.
Sounders also announced that Sunderland AFC are coming for a friendly at Qwest Field on July 20. Tickets are $12 GA or $17 reserved and go on sale March 15 via TicketMaster or the Sounders at 206-628-0888.
There are several ticket offers good through the Sounders club site as well.
February 10, 2005 -- Join Emerald City Supporters at Kell's on Saturday February 19, 6:30pm for a supporters get together/party. Watch Sounders on video, drink beer, and win cool prizes. Details on front page.
Supporters have officially adopted "Emerald City Supporters" and dropped the old "Pod" name in a long overdue move.
The supporters have received money from the club to help finance activities for the coming season. A group of ECS met recently at the U-Village Burgermaster and voted on how to spend the money for 2005. Among those things are new ECS and SounderCentral.com banners to hang in Qwest Field, and money for Man of the Match awards to Sounders players.
The issue of supporters scarves came up and ECS are investigating a cheaper scarf alternative similar to what Timbers Army do. A design should be completed by end of February and if enough interest/$$$ come forward, orders will be placed shortly thereafter.
January 12, 2005 -- USL have released the 2005 USL-1 fixture list for all clubs. Sounders 2005 Fixtures include the opener at home on Saturday April 30 v. P*rtland scum.
December 8, 2004 -- Updated the Links page with some new links for foreign clubs, and a new section for Seattle-area footy pubs.
A-League is renamed USL Division One for 2005. Milwaukee have suspended operatons, leaving USL 1 at 12 teams in a single table. Overtime has been scrapped, and a more balanced schedule is in place with each team playing the others home and away, plus 6 more "rivalry" matches for a total of 28.
October 27, 2004 -- Syracuse, Edmonton, and Calgary have folded, leaving the A-League for 2005 with 13 clubs at present. Rumors have it that Milwaukee Wave United may decide to stick to indoor (MISL) only from here on out as well. Utah Blitzz may move up from D3 to A-League, possibly playing out of Odgen instead of Salt Lake City, in major part due to MLS expansion with Real Salt Lake.
September 27, 2004 -- Updated Honors page with recent A-League finals appearance.
Sister club Yeovil Town FC have gone top of the table in Coca Cola League 2!
September 20, 2004 -- Sounders fall 2-0 away to Montreal Impact in the A-League final, before an overflow crowd of almost 14000. Craig Tomlinson almost equalizes within seconds of coming on late in the second half, hitting the crossbar from angle left, but that would be as close as the lads would get. Montreal were the better team and were deserved champions.
Sounders had advanced to their third A-League final by beating Vancouver 2-1 on aggregate (1-0, 1-1).
Adrian Hanauer last week announced that the Sounders will return to the A-League for 2005.
September 7, 2004 -- Sounders beat P*rtland 2-0 on a golden goal extra time strike from Welton. Sounders thus advance 3:2 on aggregate and now face Vancouver in the Western Conference finals. Vancouver dispatched Minnesota 3:0 on aggregate. Sounders faced the Caps four times this season, winning twice, drawing once, and losing once.
Sounders front office may be running a bus trip to Vancouver for the return leg on Sunday the 12th, which would include round-trip bus rides and a match ticket. Stay tuned for further details as they become available.
September 3, 2004 -- Added a "site sponsors" section at the bottom of the Home Page showmetickets.com has become the first paid advertiser for the site. Check them out for NFL football tickets and help support this site!
Added a new link on Links page to Pickled Onion Pub in Renton. They show lots of footy on telly, so there's another place to go to watch games!
August 31, 2004 -- The Josh Saunders tribute page is up! The P*rtland keeper was arrested last week for drunken driving and reckless driving (102 mph in a construction zone), having his car impounded by the police and facing a court date in early September.
August 30, 2004 -- Sounders see their winning streak and 3rd place disappear in an uninspired 3-1 sleepwalk at home to Minnesota. That means we play P*rtland in the first round of the playoffs, while Minnesota earn a matchup with Vancouver Whitecraps.
Meanwhile in the East, Montreal faces Rochester and Richmond faces Syracuse.
August 23, 2004 -- ex-Sounder forward Brian Ching bagged the equalizer and his first national team goal in the USA's recent 1-1 draw away to Jamaica in the opening match of World Cup 2006 qualifying. He's also near the top of the MLS scoring table this season, with 11 league goals to date!
Sounders have clinched their 11th straight winning season in 11 years of APSL/A-League play. They are also close to clinching a playoff spot, depending on Minnesota, Milwaukee, and Vancouver's results this week, and failing that, a positive result v. Minnesota on the 28th. The most likely scenario looks like a 1st round playoff rematch with Vancouver, with just the seeding/home leg advantage to be settled.
Vancouver Whitecraps win the inaugural Cascadia Cup, following a monumental collapse by P*rtland, who were up 9 points and proceeded to screw it up as usual ;-) Sounders closed the Cascadia Cup campaign with 3 wins and a draw in their final four matches, and win the season series with the Craps 2-1-1.
August 6, 2004 -- updated sister club Yeovil Town FC page to list the 2004-2005 fixture list, which opens tomorrow at Bury. Good luck Glovers!
Added road trip info to next weekend's match @ Vancouver to front page.
July 26, 2004 -- Edmonton Aviators folded, then were "revived" by the A-League and will operate for the remainder of the season as "Edmonton FC".
July 16, 2004 -- Seattle lost out to Salt Lake City for the final 2005 MLS expansion team; supposedly Adrian Hanauer & co. are still at the top of the list for a planned further 2006 expansion of two more teams.
July 1, 2004 -- The Sounders have released MF Robbie Aristodemo. Aristodemo likely has become surplus to requirements following the acquisition of Costa Rican MF Jonathan Bolaņos.
Sounders have also announced a TV watch party at Kell's (see Home Page for details) for tomorrow's Fox Sports World televised match away to Milwaukee at 5:00pm PST.
June 29, 2004 -- Seahawks Stadium has now officially been renamed to "Qwest Field", given that the corporate sponsorship/naming rights to the stadium have been purchased by telecommunications giant Qwest. The Stadium page has thus been updated.
Sounders signed Costa Rican MF Jonathan Bolaņos last week and he debuted in the recent road trip to Atlanta and Charleston. Bolaņos has appeared for the Costa Rican youth and senior national teams, and had a short stint with the Chicago Fire in MLS last season.
Rumors have been swirling about MLS and the current Sounders managment group recently. It appears that GM Adrian Hanauer has secured additional investors, but are still working out the logistics of a stadium lease and whether MLS 2005 is doable at this late date. 2006 looks more likely.
A disturbing part of the possible move to MLS is the loss of the Sounders name -- it seems that Hanauer is seriously considering a new club moniker (or "brand" in marketing-speak). There is a petition ongoing on the Sounder Central discussion board which is being used to persuade Hanauer to retain the Sounders name for a future MLS club. We encourage all Sounders fans to sign this and keep the club tradition alive!
May 26, 2004 -- More housecleaning on the Song List page -- added a sample clip for "Go West" tunes, and created a Song List Archive page for stuff we don't use that much or new songs that are undergoing a "trial" to see if they work...
May 25, 2004 -- Despite routing Calgary 5-0 over the weekend, Sounders are out of the US Open Cup due to Virginia Beach beating Atlanta after extra time. VB win the final "wild card" entry from the A-League.
May 24, 2004 -- More housecleaning on the Song List page.
May 17, 2004 -- Sounders are teetering on the edge of Open Cup elimination, having lost the return leg at home 0-1 to P*rtland, despite dominating most of the proceedings, and having hit the woodwork three times in the first half. There's still hope if Virginia Beach loses their next match, Minnesota beats Milwaukee twice, and Sounders beat Calgary (with goal difference perhaps being a factor).
May 10, 2004 -- Sounders draw 1-1 with Edmonton in the home opener. Sounders looked in control until Edmonton were awarded a penalty in 2nd half time added on. Preston Burpo saved the penalty, but no one cleaned up the mess as the rebound was put in. Jason Farrell scored for Seattle.
May 3, 2004 -- Sounders drop their season opener 2-1 away to archrivals P*rtland. Kyle Smith gets the Sounders goal (and a vital away goal in the US Open Cup qualification) in the 75th minute, but cannot find the equalizer thereafter. Sounders host the return leg on May 15th at Seahawks Stadium.
Around a dozen or so supporters section were there, as well as quite a few other more casual Seattle fans, which was an improvement, but we need to do far better. Having a signup table at home matches this season should help in that department.
The match was marred by several near brawls, including one a few minutes before halftime in which Ryan Edwards was sent off for retaliating with an elbow to an opposing player's head -- after P*rtland's Shawn Saunders had hit Edwards in the neck from behind. And this all after Edwards got his boot a bit high following P*rtland keeper Josh Saunders spilling a cross and then failing to secure it a second time among a crowd of players.
Oh, and PGE Park security were wankers during the second half and especially after Seattle scored.
April 29, 2004 -- Opening day is just two days away!
2004 Roster has been updated with the complete 24-player squad.
Sounders beat WSSA U-23's 5-0 and won 3-0 away to PDL (4th division) Yakima Reds over the weekend, completing an unbeaten pre-season.
April 21, 2004 -- Media day for the press and fans took place at Seahawks Stadium yesterday. Check Sounder Central for a gallery of pics from the day. A press release from the Sounders is here
F Roger Levesque will return on loan from San Jose Earthquakes of MLS, pending league clearance. D Kevin Sakuda has returned from the MISL San Diego Sockers. Several other players remain in camp to fight it out for the last squad places.
Sounders win their two most recent pre-season matches: beating Seattle University 3-2 and 1-0 away to Vancouver. Next up is away to Yakima Reds, and this coming weekend in Mount Vernon v. WSSA U-23's.
April 9, 2004 -- 2004 Roster page has been updated with recent signings.
Due to schedule changes by the Edmonton Aviators, a few date changes have occurred. Check 2004 Fixtures for the updates.
In an email to supporters today, the Sounders front office has confirmed that the club are in negotiations with German Bundesliga club 1860 Munich for a friendly in late May/early June!
April 5, 2004 -- Sounders beat Liga Hispana All-Stars 4-0 before a full house at Starfire Sports complex in Tukwila. Craig Tomlinson led the way with two goals, Sean-Michael Callahan and Jake Vaughn added one each.
Sounders announced today the signing of ex-MLS striker Welton. Welton is Brazilian and comes to Seattle from Norwegian first division outfit Fredrikstad FK. He was a two-time MLS all-star in the '90's, and is no stranger to the A-League, having played for Pittsburgh in 2001.
More signings: F Kyle Smith. Possible are trialists Scott White, Memo Arzate, ex-Sounder Kei Kinoshita, Danny Waltman, Seth Marsh, and ex-P*rtland MF Jake Vaughn.
March 24, 2004 -- More signings: GK Preston Burpo, F Darren Sawatzky, MF Jason Farrell, D/F Marco Velez have resigned. F Herculez Gomez won't be back; he has signed with D3 San Diego.
We've added a 2004 Roster page with the current squad, which will be updated as more players are signed.
March 12, 2004 -- Sounders have signed Canadian youth international MF Robbie Aristodemo, who played the past three seasons for Toronto. Aristodemo was the 2001 A-League rookie of the year. Several other players have re-signed from last year's squad, including fan favorite Danny Jackson, Viet Nguyen, Scott Jenkins, Sean-Michael Callahan, Ryan Edwards, Craig Tomlinson, Chad Brown, Zach Scott. GK Preston Burpo had appeared briefly on the club site's roster page, but has since been removed so that is apparently still in progress.
One who is not on the way is MF Wes Hart, who signed for San Jose Earthquakes in MLS.
The official club website has undergone a facelift, check it out. Seems a lot better than last year, though it is still in a state of "construction". They've even started linking to all the fan sites!
Join us for the pre-season opener on April 3 v. Liga Hispana all-stars. Details on the home page underneath the P*rtland road trip info.
The rest of the preseason schedule is posted at Seattle Pitch.
The club have also announced that all home and away matches will again be on radio via KKNW 1150 AM and via webcast. Supposedly the awful installation procedure for Chaincast is gone and it should be a lot easier to listen to.
Supporters groups from Portland, Seattle, and Vancouver have launched the Cascadia Cup, a "derby" competition similar to the Southern Derby contested by some of the southern A-League clubs. This competition will be based on all regular season match results between the three clubs. We are currently collecting funds for purchase and initial engraving of the trophy. If you'd like to contribute a few dollars, go to the Cascadia Cup Founder's Circle page. Each club's supporters are playing for 1/3 the cost, or about $117 for each group.
February 20, 2004 -- There will be an online meeting of the Sounders booster club on Wednesday, February 25, starting around 7:00pm PST. Details here on the Sounder Central discussion board.
February 18, 2004 -- A-League signings are starting to heat up. Sounders announced the re-signing of MF Viet Nguyen and F Craig Tomlinson, and now ex-Sounder MF Andrew Gregor has signed for rivals Vanc*uver, apparently for 3 years. His return in enemy colors should be interesting to say the least.
Supporters, we need your help for distributing 2004 Sounders pocket schedules and season posters to area merchants, soccer centers, Ticketmaster locations, and other places where we can reach potential fans. These will be made available in about two weeks time, with the club mailing the materials directly to your home if you can help. See the Sounder Central discussion thread to see how you can help out.
February 8, 2004 -- Seattle Times reported over the weekend that Sounders have signed D/MF Billy Sleeth, formerly of Colorado Rapids and Chicago Fire of MLS. Sleeth also played collegiately at UW and was a member of the Sounders Selects youth/reserve team that shocked Dallas Burn in the Open Cup a few seasons back.
The article also mentioned that ex-Colorado and UW MF Wes Hart is in negotiations with the Sounders, and that MF Leighton O'Brien will spend 2004 on loan again to Bodens BK of Sweden. In an interesting role-reversal, a Swedish player from Bodens may be coming to Seahawks Stadium in return -- Per Johansson.
Rumor has it that the Sounders have secured a rent-free deal with First & Goal for the 2004 season at "The Hawk", paying only for matchday staffing.
Sounders booster club will be meeting on Thursday the 12th at the usual venue, Third Place Books.
January 19, 2004 -- This month's booster club meeting will be this Thursday, January 22nd @7:00pm at Third Place Books in Lake Forest Park. (http://www.thirdplacebooks.com/NASApp/store/IndexJsp ). Sure to be on the agenda will be planning for a road trip to P*rtland for the season opener on Saturday May 1.
January 9, 2004 -- The Sounders 2004 schedule has been announced, and we open away to P*rtland on Saturday May 1 at 7:00pm. Watch this space for road trip details. This match doubles as the first leg of the US Open Cup qualifier as in the past couple of years.
First home match is Saturday May 8 v. A-League newcomers Edmonton.
January 5, 2004 -- Yeovil fall 0-2 in the FA Cup 3rd round to Liverpool, despite a gallant effort. Soccernet match report
A-League draft: Sounders draft local boys Troy Ready, MF, Univ. of Washington, and James Vert, MF, Seattle University.
The long rumored realignment of the A-League occurred with a seven team Western conference (Seattle, P*rtland, Vanc*uver, Calgary, Edmonton, Minnesota, Milwaukee) and a nine team Eastern conference, with top 4 in each advancing to the playoffs.
Still awaiting word on this month's Booster Club meeting. Watch this space for the announcement.
December 9, 2003 -- Yeovil have won their first two FA Cup matches v. Wrexham (4:1) and Barnet (5:1), setting up a huge 3rd round match home to Premiership giants Liverpool on January 4th 2004.
Sounders MF Leighton O'Brien has recently returned from loan to Swedish club Boden and is with indoor club Milwaukee Wave through the end of their season in April 2004. It is unclear whether O'Brien will return to Sweden via another loan deal, or return to the Sounders.
The 2004 A-League season schedule is being finalized, and rumor has it that we open in P*rtland on Saturday May 1. This is likely followed by two weekend home fixtures, May 8 v. Edmonton, and the return leg v. P*rtland on the 15th. The supporters club will have a road trip scheduled for the 1st, track it at the Sounders Central supporters discussion board: http://soundercentral.com/board/index.php.
The fledgling Sounders Booster club will again meet on Thursday December 11, 7:00pm at Third Place Books (see link below). Sounders GM Adrian Hanauer will reportedly be in attendance. All Sounders fans are encouraged to attend.
November 7, 2003 -- Yeovil Town are featured tomorrow at 1pm PST on Fox Sports World, with their FA Cup match v. Wrexham! A rare chance to catch the Glovers on local telly!
Season tickets are on sale for next season, with discounts over the regular rate if purchased before December 1. Also, a block of 10 free tickets is available to season ticket purchasers. It appears that the seats will be reserved as with last year, contrary to rumors that indicated that all areas would be general admission.
There will be a booster club meeting on November 13th @7:00pm at Third Place Books in Lake Forest Park. (http://www.thirdplacebooks.com/NASApp/store/IndexJsp ). All supporters are encouraged to show up to help plan activities for the coming months and to join forces with the new booster club.

October 24, 2003 -- All the Seattle area newspapers, as well as the club website, confirm that the Sounders will return to Seahawks Stadium next year, with one year options for the next couple of seasons following.
Also, the A-League have fined several players and staff "undisclosed amounts" for the celebration incidents following the first round playoff match in Vancouver on Sept. 7.
October 9, 2003 -- Rumor has it that Sounders will return to Seahawks Stadium for 2004, rather than move to the Ft. Dent complex under construction in Tukwila. Season ticket packages have been announced; they are posted at Sounder Central.
Washington Post's Steven Goff has reported that GK Rich Cullen has attracted the interest of DC United as cover for Doug Warren after first choice GK Nick Rimando was injured. Cullen had previously been linked to the MISL's San Diego Sockers for the winter, where Sounders Zach Scott and Kevin Sakuda will be playing in the offseason.
October 2, 2003 -- The Yeovil page has the updated "On To Victory" fanzine for your enjoyment.
September 29, 2003 -- MF Andrew Gregor and GK Preston Burpo may be joining Leighton O'Brien at Swedish club Boden
September 22, 2003 -- Sounders were eliminated by Minnesota Thunder in the A-League semifinals by 2-0 aggregate.
Defender Zach Scott joined LA Galaxy on loan for the rest of the MLS season.
Currently, Sounders front office is soliciting opinion on whether the Sounders should play at Seahawks Stadium next season, or move into a new complex being built at Fort Dent park in the South Seattle suburb of Tukwila. See Sounder Central for news and discussion on the boards to have your say.
We invite you to follow our sister club in England, Division 3's Yeovil Town FC, during our offseason as we post results weekly and news/features from time to time.
August 22, 2003 -- MF Alex Bengard appears to be lost for the rest of the season with a fracture below his right ankle. The injury was sustained in the recent match at Calgary.
This site will be inactive until September 17. Hopefully there will be news of a US Open Cup semifinal in Seattle, and an A-League final involving the Sounders. C'mon you Sounders!!
August 18, 2003 -- ECSC presented Danny Jackson with several get-well cards signed by hundreds of Sounder fans at halftime of yesterday's match.
The Timbers Army had yet another meltdown with security at PGE Park last Friday, with a security guard spraying down the section with a fire extinguisher after a smoke bomb was lit. There's a movie of it floating around the net, but we have the exclusive audio of how it went down ;-)
August 15, 2003 -- Defender Danny Jackson is out for the season after tearing the ACL in his left knee in training this past Tuesday. This will be a huge blow to the team's US Open Cup run as well as the A-League playoffs. Jacko has been considered the front runner as the team MVP by most supporters this season.
Emerald City Supporters Club wishes Danny a speedy recovery and a successful return to the pitch in 2004.
August 11, 2003 -- Sounders to face LA Galaxy at the Hawk on August 27 in the Open Cup quarterfinals. Tickets now on sale via the Sounders ticket offices.
August 6, 2003 -- An MLS scalp at last! Sounders send MLS leaders San Jose crashing out of the Open Cup 1-0 on a Kyle Smith goal in the 41st minute. Sounders advance to the quarterfinals v. LA Galaxy (MLS) or Fresno Fuego (PDL) who play tonight in LA at the Home Depot Center. That match, from what we know, will be hosted by the Sounders at Seahawks Stadium. Watch this space for ticket announcements.
July 30, 2003 -- Sounders have acquired F Roger Levesque on loan from San Jose Earthquakes. Bio from Quakes site.
July 28, 2003 -- A new pic of Yeovil Town's Michael McIndoe, Nationwide Conference player of the year and possible Scotland callup, on the Yeovil Town page, courtesy of David Falk.
It appears we will have a tailgate party in the UW parking lot adjacent to the Husky Field before the 4th round Open Cup match v. San Jose on August 5. Thread ongoing at SounderCentral discussion board.
Road trip to P*rtland is ongoing, we will have a few new faces with us. We still need volunteers to drive, so if you can take a fellow supporter or two, in exchange for gas $$$ and a beer or two, please chime in!!
July 21, 2003 -- It looks like the US Open Cup fixture v. San Jose Earthquakes will be played at UW Soccer Field on Tuesday August 5, according to posters on the Topica mailing list who have called the front office. Tickets should be on sale later today.
Assumably all the tickets would be general admission. We will post info about the supporters section location later this week.
July 17, 2003 -- Sounders beat Minnesota Thunder 1-0 on a Kyle Smith goal in minute 50. Next up is a rematch of last year's Open Cup cracker v. San Jose Earthquakes. The clubs have already met this year, a 0-0 draw at the Hawk in May.
There are conflicting reports at US Soccer as to whether San Jose or Seattle host the 4th round fixture -- one section has it in Seattle on August 5, another has it in San Jose on August 6. Adding intrigue is a Sounders press release indicating that the club are trying to find a venue to host the match.
The latest rumor from the club's offices are that the Sounders will indeed host the match (August 6??), at Interbay Stadium, and tickets will be on sale starting Monday July 21.
July 15, 2003 -- We've added a scan of the Yeovil Town Nationwide Conference Champions banner on the Yeovil Town FC page. This was graciously donated by Yeovil supporters Steve and Nancy at the El Paso match last Sunday. In addition, they brought over a Yeovil scarf, and left with some Sounders gear of their own.
Also, some pics have been added on the Photos page.
In case you are not aware yet, we've set up a new Sounders discussion board at SounderCentral, including a Seattle-Yeovil board and of course discussions about the Sounders too!
July 14, 2003 -- More housecleaning in the Song List. Including a new El Paso song we sung and a new one for the referee.
July 9, 2003 -- Sounders sign MF Ben Somoza, formerly of P*rtland and the University of Washington.
F Herculez Gomez has returned to LA Galaxy for their Korean tour, and will return to the Sounders on July 23.
July 7, 2003 -- Glovers in town!! We have some visiting fans from Yeovil who will be at the upcoming El Paso match. Be sure to stop by and greet our guests and get some Yeovil gear as well.
Speaking of Yeovil Town, the 2003-2004 English Division 3 fixtures are out and posted on our Yeovil Town FC page.
July 3, 2003 -- Sounder Central has posted a US Open Cup bracket, based on a spreadsheet done by a fellow supporter.
June 13, 2003 -- A new "portal" for Sounder fan sites has been launched: http://www.soundercentral.com/. A link has been added to the Links page as well as to the front page.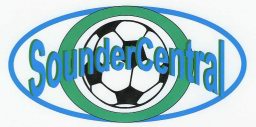 This new site is meant to make it easier for new fans to find all the supporter sites and will eventually host things like a message board and other original content. This is easier to market at the matches -- an easier-to-remember URL and one not several web addresses to remember.
June 12, 2003 -- The 3rd round pairings in the US Open Cup have been announced, and Sounders will play away to Minnesota Thunder on July 16. Complete draw:
2003 Lamar Hunt U.S. Open Cup Schedule/Results
First Round
1 Bridgeport Italians (USASA) 1, Chesapeake Dragons (PDL) 0
2 D.S. United (USASA) 1, Raleigh CASL Elite (PDL) 4
3 Milwaukee Bavarians (USASA) 2, Des Moines Menace (PDL) 1
4 Fresno Fuego (PDL) 1, Chico Rooks (USASA) 0
Bye: Bradenton Academics
Bye: Mid-Michigan Bucks
Second Round
5 Bradenton Academics (PDL) at Wilmington Hammerheads (USL-PSL) Wilmington, N.C. June 25 7:30 p.m.
6 Long Island Rough Riders (USL-PSL) at Mid-Michigan Bucks (PDL) Berkley, Mich, June 25 7:30 p.m.
7 Bridgeport Italians (USASA) at New Hampshire Phantoms (USL-PSL) Manchester, N.H. June 25 7:30 p.m.
8 Carolina Dynamo (USL-PSL) at Raleigh CASL Elite (PDL) Browns Summitt, N.C. June 25 7:30 p.m.
9 Reading Rage (USL-PSL) at Milwaukee Bavarians (USASA) Milwaukee, Wisc. June 24 7:30 p.m.
10 Utah Blitzz (USL-PSL) at Fresno Fuego (PDL) Fresno, Calif. June 25 5:30 p.m.
Third Round
11 Seattle Sounders (A-League) at Minnesota Thunder (A-League) Blaine, Minn. July 16 7:30 p.m.
12 Pittsburgh Riverhounds (A-League) at D.C. United (MLS) Boyds, Md. July 16 7:30 p.m.
13 Game 10 Winner vs. El Paso Patriots (A-League) TBA July 16 TBA
14 Atlanta Silverbacks (A-League) at Game 5 Winner TBA July 16 TBA
15 Virginia Beach Mariners (A-League) at Carolina Dynamo OR TBA July 16 TBA
Raleigh CASL Elite at Virginia Beach Mariners (A-League)
16 Game 9 Winner at Milwaukee Wave United (A-League) Milwaukee, Wisc. July 16 TBA
17 Game 6 Winner vs. MetroStars (MLS) TBA July 16 TBA
18 Game 7 Winner vs. Rochester Raging Rhinos (A-League) TBA July 16 TBA
Added links to the other Sounder fan sites on the front page.
June 9, 2003 -- Marcus Hahnemann started in goal for the US in the 2-1 win over New Zealand over the weekend, making it two ex-Sounders in the US side in the past two matches. From all accounts, Marcus played well.
Road trip to Vancouver? We're going to try to put together a trip up, for those that can get off work early on Friday the 20th.
May 30, 2003 -- Ex-Sounders GK Marcus Hahnemann, who now plies his trade with Reading in the English First Division, has been named to the USA Confederations Cup squad, making him the second ex-Sounder to earn his way onto the national side in recent days. USA face Turkey, Brazil, and Cameroon in their opening round draw in late June. The matches will all be on various Spanish language stations (primarily Galavision); no English language package has been announced with (unfortunately) pay-per-view likely to be the only English option.
May 29, 2003 -- Sounders draw with MLS San Jose Earthquakes 0-0 in a game the Sounders had much the better chances. Landon Donovan was nowhere to be found; the Quakes played only a handful of starters, including ex-Sounders Brian Ching (who came off with a hamstring injury in the 20th minute), Craig Waibel (who cleared a Marco Velez shot off the line in the 2nd half), and Ian Russell.
Crowd was announced at just over 3200, but there were clearly many more people there by many eyewitness accounts than at the previous matches which topped out at 5000+. Someone's accounting figures are a bit off, we think!
Because of the draw, ticket stubs may be redeemed at the June 7 match v. Vancouver for a free ticket in the same price range. Suggestion is to arrive earlier than usual as the ticket lines will likely be longer due to people redeeming for free tickets.
May 22, 2003 -- We've added a Yeovil Town FC page to keep tabs on our sister club across the pond. Seb White, the editor of On To Victory fanzine, has sent us the latest copy of their fanzine, which he's agreed to let us post on the site. Enjoy, and thanks Seb!!
May 19, 2003 -- See the front page for road trip information to the away match in Vancouver on Friday the 23rd.
Ex-Sounder strikeman Brian Ching has apparently been called up to the US side to face Wales in a friendly on May 26 in San Jose. Well done Brian!!
Added a couple new entries that we've been using lately to the Song List.
May 8, 2003 -- The May 10 fixture away to Calgary has been postponed due to snow. It has been rescheduled for June 22.
F Kyle Smith was named A-League player of the week. MF Sean Michael Callahan apparently will serve his red card suspension in the next home match v. P*rtland.
May 5, 2003 -- Sounders have now qualified for the US Open Cup proper by dispatching P*rtland 3-0 on aggregate. Watch this space for a US Open Cup bracket once the draw is made. MF Leighton O'Brien has played his last match and is on his way to Swedish club Boden on loan for the summer.
We've added a compilation of pub reviews from which a "winner" should be selected soon for our pre-game brews, on Supporters page.
Looks like the new scarves have been a hit at the opening weekend matches -- the souvenir stand at the Hawk sold a lot of them. The new home kit also seems to be moving rather well.
The club are having a meeting today to resolve some of the problems experienced with people ending up with tickets in the supporters section who should not have been located there. We've been assured it will be resolved. Also, it appears that both the home and away support were given trouble by stadium security without necessarily complaints from surrounding fans. This also is being looked into.
May 2, 2003 -- Fixed the link to Close the Roof to point to the main page.
Sounders win the opening leg of the I-5 derby 1-0 @ PGE Park, thanks to a Kyle Smith strike in the 35th minute.
We now carry that valuable road win into the return leg tonight at the Hawk. GK Preston Burpo was injured early in the first half with a fractured jaw and at least one broken tooth and will be out for an extended period. Meanwhile, understudy Rich Cullen did the biz and got us the clean sheet we needed in the away leg -- although no doubt helped by the fact that the scum managed to miss a sitter or two that most house league players would have managed.
Sounders announced today that GK Ryan Wittstruck, from the University of Puget Sound, has been signed to provide cover as the backup keeper. Wittstruck was recently in camp with P*rtland.
Match report is up at Seattle Pitch.
The radio broadcast at KKNW unfortunately went out for much of the first half so we had to switch to the enemy broadcast for the duration. It did come back for the 2nd. One other humorous item -- according to a Vancouver fan listening to the OregonLive broadcast, it went out with about 3 minutes to go in the match and was replaced by a phone operator asking "If you would like to make a call, please hang up and try again". Kind of fitting, isn't it :-)
May 1, 2003 -- Finally got with the program and converted the banner graphics over to the new logo and colors.
Online chat during tonight's match: We're setting up a chat room so that we can discuss the match as it unfolds on radio for those unable to make the trip to P*rtland. We're on MSN Messenger, send an email to ldpirozzi@hotmail.com. Download the MSN Messenger software, if necessary here. Match starts at 7pm PDT.
April 28, 2003 -- Banners, Banners, Banners!! One is hitting the presses today and should be ready for the home opener, another is in the works, thanks to the work of Edward Simpson at Close the Roof. Want to contribute a few bucks towards getting it done? Meet up with us at FX McRory's before the match on Friday evening or meet up with us at the match in Section 113.
Looks like (as somewhat expected due to the midweek fixture) the P*rtland road trip is "on your own" for anyone heading down.
April 22, 2003 -- A little housecleaning in the Song List page. Also updated the Squad page with some recent signees and the addition of ex-Sounder player and coach (and legend to boot!!) Jimmy Gabriel as an assistant coach.
D Marco Velez was recently added to the squad, and ex-P*rtland MF and local boy Ben Somoza has been training with the Sounders and played in the recent 4-1 pre-season loss to Vancouver.
Our A-League/Conference crossover league club Yeovil Town have clinched the Conference championship in convincing fashion and will be playing League football in Nationwide Division 3 next year. Congrats to the Glovers and their supporters!!.
April 18, 2003 -- In what the Sounders are terming a "revenge/grudge" match, a friendly v. San Jose Earthquakes has been scheduled for 7pm on Wednesday May 28 at Seahawks Stadium. This match was agreed to as part of the transfer of F Brian Ching to the Quakes this past off-season. Tickets are now on sale through the club at 206 622.3415.
April 17, 2003 -- Recent loanee Herculez Gomez will be out several weeks with an ankle injury suffered in last Saturday's 5-2 preseason win over Yakima Reds. Mysteriously, he's also disappeared off the club's roster page... hopefully that doesn't mean the loan is off!! At any rate, expect the club to sign some more cover up front.
April 14, 2003 -- Sounders have secured F Herculez Gomez on loan from LA Galaxy. Swedish side Boden have apparently acquired MF Leighton O'Brien on loan, though O'Brien will play in the first two matches v. P*rtland before leaving for Sweden.
An announcement surrounding MLS and Seattle is due on April 18 at the Sounders Media Day. Hunch here is it will have to do with the friendly v. San Jose Earthquakes as part of the Brian Ching transfer, but hopefully there's more to it...
March 31, 2003 -- Fellow supporter David Falk has launched a new Sounder webzine in tribute of past traditions. Check it out...
March 28, 2003 -- Sounders have revamped the club website with the retro logo (as must Sounder Nation one of these days). Also of interest is Seattle Pitch reporting today that a few new faces are apparently signed, including ex-Sounder and MLS MF Sean Henderson, and ex-Colorado Rapids defender Danny Jackson. Apparently there is also another attacking MF/forward from an A-League Eastern Conference team on the way.
March 25, 2003 -- Sounders sign MF Alex Bengard, formerly of LA Galaxy. This is the embargoed signing referred to in the supporters meeting write-up from March 17. Bengard is 24 years old and has played sparingly (82 minutes in seven matches) the past two seasons with defending MLS champions LA.
March 21, 2003 -- The Japanese FA have pulled out of friendlies v. the USA and Uruguay next week. Venezuela will replace Japan for the match at Seahawks Stadium on Saturday March 29. Gates open at 11am, match starts at 1pm.
March 17, 2003 -- A write up of the supporters meeting with the Sounders front office is here: Some very interesting developments regarding Scarves and a radio deal to broadcast all home and away matches, among other things!!
Sounders have announced their pre-season slate of matches, which is available here. Included is one match v. Vancouver Whitecaps in Bellingham.
February 28, 2003 -- Seattle Times reports that defender Ryan Edwards has re-signed for the upcoming season.
We've set up a date/time for interested supporters to meet with the Sounders front office to go over supporters group related topics for the coming season, on Sunday March 16, 6pm at the club's offices in Seattle. The club office address/phone # can be found on the Club page. Need driving directions? Try using MapQuest
February 25, 2003 -- Sounders re-sign Viet Nguyen, after Viet has seriously considered signing for Vancouver. This is doubly important now that it looks as if San Jose Earthquakes of MLS will draft Brian Ching in the MLS Supplemental draft, and Leighton O'Brien is drawing interest from Chicago Fire among others in MLS.
USA-Japan friendly is back on, after the Japanese FA had reportedly pulled out of the match due to war concerns.
A great interview with Sounders GM Adrian Hanauer on soccerfanaticsradio.com
February 13, 2003 -- We will be organizing a supporter group get together/meeting with the front office, with a target date of the first week of March. More details posted when we get confirmation from Adrian Hanauer & co.
2003 US Open Cup format has been posted on USLSoccer.com. A-League clubs enter in the 3rd round along with bottom MLS finishers DC United and MetroStars.
February 3, 2003 -- added reciprocal link on Links page for Soccer-Corner.com.
Remember the US-Argentina viewing party at George & Dragon Pub on Saturday February 8, 9am!!!
January 28, 2003 -- Added the 2003 Fixtures as the A-League has finally released this year's schedule, now that the Milwaukee mess has been sorted. Sounders open with an away and home series May 1 and 2 v. P*rtland which doubles as the US Open Cup qualifier.
Also, complete A-League schedules for each team.
The playoff format is a bit different this year with only 8 teams advancing (top 2 clubs in each of the 4 divisions to play each other, the winners facing the other winner in each conference, then the final). As with last year, playoffs are home and away aggregate goals.
January 15, 2003 -- One of our fellow supporters has worked with George & Dragon pub to set up a watch party for USA-Argentina on Saturday February 8. Match starts at 9am. Come on out to support USA and meet with fellow Sounder supporters. And have a few pints of course and discuss the upcoming season and the supporters group.
The Stadium page has been updated. Looks like the supporters section will be located in section 113 in Seahawks Stadium. This is on the south end of the East stand.
The A-League schedules should be released soon, pending resolution one way or another of the Milwaukee situation. It is increasingly likely that Milwaukee will not be back in the A-League for 2003 due to money/ownership troubles.
Leighton O'Brien and Andrew Gregor are officially back in the fold for 2003, O'Brien's contract being unique for the A-League in that it is a 3 year deal.
December 22, 2002 -- Added details for USA-Japan at Seahawks Stadium, March 29, 2003, as well as updating Yeovil Town results and upcoming fixtures.
December 13, 2002 -- The pairings for A-League qualification into the 2003 US Open Cup have been announced, and we get annual Cup qualifier whipping boys P*rtland yet again, who have never qualified for an Open Cup tournament before. Qualification is a two-legged, aggregate, similar to last year's qualifier round when we trounced the lumberjacks 6-1 on aggregate. All the pairings are posted at USL Official site
December 9, 2002 -- It has been announced that ManUre will play Celtic on July 22, 2003 at Seahawks Stadium. The match as with the others on ManUre's US tour, will be televised on Fox Sports World.
Unfortunately, ManUre are playing no US opposition on this tour, instead going purely for the money in playing the likes of Juventus, Celtic, and Barcelona. Even worse, the match in LA is against Mexican club Club America rather than LA Galaxy who were recent CONCACAF champions. This is insulting to the US scene and as such, Sounder Nation advocates either boycotting the matches or at least presenting some sort of visual protest against the lack of American opposition (even one match!!) on the tour.
November 24, 2002 -- The Southsiders are running a "crossover" league during the A-League offseason in which the supporters clubs of the A-League "adopt" a Conference team in England to support. Supporter interest on the mailing list and on usldiscussions.com have led to the decision to adopt Yeovil Town as our "sister" team to support in the race to win promotion to the League (Division 3). We have a YTFC supporter on the list as well, so that no doubt figures into the decision. Up the Glovers!!

Yeovil Town FC crest

Vancouver are supporting Southport and P*rtland are supporting Halifax Town, so we must also support their opponents on the day ;-) A good guide to the Conference can be found here

We will soon have preliminary scarf designs (done by fellow supporter Edward Simpson) up to view, watch for links later in the week.

An error on the club history page has been corrected. In addition, we will be putting up yearly results/match reports for each NASL season 1974-1983 within the next month. We are negotiating with the Seattle Times to republish all the match reports from those years.

November 21, 2002 -- corrected information on the Club page that still linked back to Memorial Stadium. Pointed a link to First and Goal for maps/pictures of Seahawks Stadium.

November 18, 2002 -- added a new link for an online 'zine that one of our fellow supporters has started working on, which promises to be good stuff. Check it out on the Links page. Current article talks about the changeover of team colors/logo to the old-school, and what a revamped Sounder kit may look like.

November 8, 2002 -- At long last, the USL have gotten rid of the "bogus" point and gone to a 3-1-0 point system!! Full story here. Finally, all the leagues in the US have standardized on the universal point system and come in line with the rest of the world.

Craig Waibel was picked up by San Jose Earthquakes and ex-Sounders Select and Chicago Fire player Billy Sleeth was acquired by Colorado Rapids in the MLS waiver draft. Unfortunately it is likely we won't be seeing either player in a Sounders kit next season, barring the occasional loan for a match or two here and there.

November 5, 2002 -- LA Galaxy released former Sounder defender Craig Waibel in the round of waiver cuts before the MLS waiver draft.

Waibel, appeared in 23 MLS Matches -- 11 starts -- including registering two assists in three MLS seasons. In 2002, he finished the season making 12 appearances (9 starts) with the Galaxy and earning one assist for one point.

A 6-1, 195-pound defender, Waibel was signed as a 2001 Discovery Pick on May 4 and went on to play in nine games, making two starts after joining the Galaxy.

A graduate of the University of Washington, Waibel was a member of the Galaxy's championship teams that captured the 2000 F.C. Champions Cup, 2001 U.S. Open Cup and 2002 MLS Cup.

Waibel played several games the past couple of seasons for the Sounders on loan from the Galaxy; hopefully he can be persuaded to return to Seattle if a move elsewhere in MLS is not in the cards.

October 24, 2002 -- The Sounders announced official plans to play the 2003 season in Seahawks Stadium. Coach Schmetzer went even farther, guaranteeing a championship in either the A-League or MLS within two years. See main page for links to full news stories.

Now that this is in place, we will be working behind the scenes to get the supporters group located in prime area, likely behind the South goal. In addition, development of a banner, more flags, and growing the group. We're also going to revisit the scarf issue and get some direction on that with input from the club.

ManUre's visit to Seattle next July is more likely on July 20 now as there are stadium conflicts for the 23rd. The venue still has not been determined.

Sam's Army Seattle Brigade have put together a section in 384/385 in Safeco Field for the upcoming Women's Gold Cup competition to support the US women. The Gold Cup also serves as a qualification tournament to the next women's World Cup. See Seattle Pitch for more details.

October 7, 2002 -- According to the NY Times, ManUre are coming to Seattle on July 23, 2003 to play a friendly, likely against the Japanese national side. This will be the opener of a 4 game U.S. tour which also sees the Red Devils visit L.A., Boston, and finally Giants Stadium in East Rutherford, N.J. The venue is still in question; whether the match will be played at Safeco or Seahawks Stadium.

Should be able to hear the cash registers "cha-ching'ing" at Old Trafford, especially if tickets go in the $75 or so range that were being charged at Roma-Real Madrid in Giants Stadium recently :(
September 30, 2002 -- Leighton O'Brien was named A-League MVP, to go along with Brian Schmetzer being named A-League coach of the year. Well done Leighton!!
The Sounders have completed moving the front office to the SoDo neighborhood of Seattle (just south of Safeco Field and Seahawks Stadium). Club page has been updated with the new address info.
There is discussion currently going on the supporter mailing list about how best to go about getting the supporters' section growing in Seahawks Stadium next year. We are also looking to get a large banner done during the off-season to hang on the railing in front of the section and get some more flags made. There is also some sentiment to rename the group to something besides "Pod".
When time allows, look for some of the auxiliary pages to be redone/updated, and for some past NASL/Sounders history to be added.
September 16, 2002 -- Sounders go out to Vancouver, losing 2-0 in Vancouver, then 6-2 in the return leg in Seattle. Vancouver now go on to face Milwaukee in the Western final.
The only good news out of this is that the matchday roster sheet confirmed that the move to Seahawks Stadium is a "go" and we have (for now) played our last match at the Memorial Stadium dump.
September 12, 2002 -- Sounders have informed us that the bus has reached a satisfactory capacity, so it is definitely a go. Also, food and beverage are allowed on the bus (including BEER) so feel free to bring whatever you like -- agricultural products may need to be consumed before we cross the border as there are restrictions on what can cross.
Song/chant sheets will also be provided so y'all can get familiar with and practice on the way up.
Remember, bus leaves from the Sounders office at 110th and Main St. in Bellevue at 2:00pm sharp, and bring your passport/birth certificate or you will not be allowed to travel.
September 9, 2002 -- Vancouver beats Portland again 1-0 to win the 1st round playoff series 2-0 on aggregate. This means that we now face the Whitecaps in Vancouver on Friday the 13th, 7:30 start time. The supporter bus will leave the team offices in Bellevue at 2:00 on Friday (see the news from Sept 6 for the link, below).
The home leg is Sunday the 15th, 5:00pm at Memorial. If you can't make the road trip, we need you at the home match!!
Please circulate news about the bus/road trip to anyone you know, we NEED to get that bus filled up with supporters so we can encourage the club to offer the bus for future road trips!!!
September 6, 2002 -- Playoff road trip update: Sounders are running a bus to the away match v. Portland or Vancouver. Click here for details. Let's get that bus filled up, support our lads, and make our presence felt in enemy territory!
Last night, Vancouver win the first leg of their series with the lumberjacks in Portland by 1-nil. Return leg is Sunday evening. Timber Jim was last spotted this morning asleep on top of his PGE Park pole, still waiting for the lumberjacks to score.
September 5, 2002 -- At last night's get together at GameWorks, Adrian confirmed that the Sounders are trying to get a bus reserved to transport fans to the away playoff match in Vancouver or Portland. The likelihood is that if we play Vancouver it will be on Friday the 13th (nice timing, eh?) or Thursday the 12th if it is Portland.
We will still be doing the carpooling as a backup in case the bus falls through. In any event, watch the Sounders site for updates, which we will pass along here as well.
September 3, 2002 -- based on (lesser scum) Vancouver's 3-1 win over (bigger scum) Portland, we will now face the winner of the Vancouver-Portland 1st round playoff tie, starting the middle of next week.
That means the opportunity to travel to both legs of the 2nd round, so if you want to go on the road to support the lads, be sure to email us now so we can accommodate you. That also means we need ALL of you at the home leg on the 15th to drown out the away support!!
August 23, 2002 -- Craig Waibel will join the Sounders on loan from L.A. Galaxy of MLS, to fill in for Dick McCormick for the rest of (at least) the regular season. McCormick broke his leg in the recent home fixture v. El Paso thanks to an ugly challenge from an El Paso player, and is out for the rest of the season.
Some updates on the campaign to get out of Memorial Stadium here courtesy of the South County Journal. Mentions both Seahawk Stadium and an update on the soccer only facility that seemingly has been in the works (vaporware??) for, like, forever...
August 13, 2002 -- Playoff dates and times have been determined for the home legs, and the news isn't good. Partly because of Seahawk Stadium's unavailability for the fixture dates (the calendar of events can be seen at First and Goal) , the 1st and 2nd round home legs will be played at (ugh) Memorial Stadium. Updated fixture list shows the home legs will be played on the 15th and 21st of September.
The A-League final is still not determined -- if it takes place on the 28th, it is likely to be at the East winner since Seahawk Stadium also has some conflicts that weekend. It is likely there are negotiations ongoing to move the final out another week as the stadium would apparently be available that weekend.
Playoff tickets are now on sale at the same regular season prices (groups of 10 or more get a discount), although coupons and other specials are not valid. Call 1-800-796-KICK or visit the Sounders offices in Bellevue to get tickets in advance.
It appears the lesson to be learned here is trying to reserve Seahawk stadium at the last minute isn't going to work. Sounders are doing the right thing by attending to the 2003 season now while dates are still open, but they missed the boat by waiting until the past month for playoffs.
August 12, 2002 -- With Saturday's win over Milwaukee, not only did Sounders clinch the Western Conference #1 playoff seed, but two draws by Charleston also clinched the overall best record in the A-League for 2002! Another "title" of sorts for the club Honors page.
And here's a what P*rtland T!mbers have ever won
Before we get ahead of ourselves though, there are three legs of playoffs to get through before we hoist our third A-League Cup. Funny things happen in football, so we must not be satisfied one bit with this season yet.
August 5, 2002 -- Put a piece on the main page to link to the effort to get the Sounders into Seahawks Stadium for the 2003 season. Please help, even if you don't plan on buying season tickets and only plan to come to a few matches!! We need to get OUT of the dump that is Memorial Stadium, as well as being held hostage by the Seattle School District when it comes to replacing (or not) the astro-crap with FieldTurf. We don't want to face another scheduling nightmare and have the SSD renege yet again on pledges to replace the turf. Enough is enough!!
Big kudos to the samba drum section who came out to provide good atmosphere at Sunday's match. Good to see them again, and hopefully they continue to come out to support our lads and help in the noise dept!! Plus, numbers of them have bought and worn Sounder kits to the match, that's a good sign!
August 1, 2002 -- Sounders have clinched a playoff spot, West division title, and first round bye. Next up is clinching the top seed in the western conference (over Milwaukee), and the top overall record in the A-League (over Charleston and others) to have first dibs on hosting a possible A-League final here in Seattle.
The Seattle Post Intelligencer had a nice piece telling the audio people to shut the damn jock rock up at Sounders matches. Maybe the Sounders read the piece, because yesterday's match had NO jock rock during the match! Even with one of the smaller crowds of the season and smaller turnouts for the supporters section.
July 29, 2002 -- Sounders christen Seahawks Stadium with a sound 4-1 win over Vancouver Whitecaps. An A-League record 25,515 filled the lower bowl of the stadium on a somewhat drizzly/foggy evening.
Sounders Select women also won, beating Vancouver Breakers 4-3 in extra time. This is the first time the Selects have beaten their northern rivals in 12 matches.
July 26, 2002 -- Added complete Seahawks Stadium Guide, straight from First & Goal. These are the rules that should be expected when bringing in items, for better or worse. The drum and big ass flag have been specifically OK'ed for inclusion. We're working on clarification on other flags that we bring.
July 25, 2002 -- Sounders sign/activate ass't coach Dick McCormick for the rest of the season. Unclear what role he'll play or how much playing time he'll get, since the midfield is already pretty stacked. Probably more of a "depth" and experience move.
Zach Kingsley scored his first MLS goal in Colorado Rapids' 3-2 win over New England Revolution yesterday. Zach has been with the Rapids for several weeks and has been seeing increasing time. One wonders if we will see him in a Sounders kit again this season.
In conversations with GM Adrian Hanauer, we have gotten preliminary go-ahead for flags on poles in the supporters section at Seahawks Stadium on the 28th. The drum and big ass flag have been OK'ed as well. However, Adrian noted that while First & Goal may OK things, stadium security have the final say and it is questionable whether they will allow certain things in.
According to another supporter, apparently the regulations (at least for NFL) at Seahawk Stadium include bans on: banners that are not hand-held (on poles/sticks), firearms, drugs, alcohol, noisemakers/horns, bottles/cans, and containers/bags over 1 cubic foot in volume. Clear plastic bags of less than 1 cubic foot volume will be allowed.
If you bring a flag on a pole, if you are denied entry at one gate, try another one and mention that Sounders got OK from First & Goal for flags. Otherwise, have them contact Bart Wiley, Adrian, or Daryl Hickman and see what can be done.
July 15, 2002 -- Newspaper reports over the weekend indicate 13,000+ tickets have been sold to the Vancouver match on the 28th at Seahawk Stadium.
The supporter's section for San Jose open cup match on the 17th will attempt to organize at one end of the grandstand or the other. Preferably the West end. Look for us there (flags, scarves, etc). I went out to survey the park and parking will be VERY tight. I spoke with a guy there and apparently there is a shuttle bus that runs between the Seattle Pacific University campus (by the gymnasium and the "loop") and the stadium. If you can't get down there at least two hours prior to the match, this would be the best option for parking.
The pitch itself is immaculate with the exception of two small bare areas in each goal mouth, and a larger thin/partially bare area in the East end penalty area (just inside the arc).
July 8, 2002 -- The US Open Cup match v. San Jose on the 17th is a sell out. Sounders are selling a few hundred standing room only tickets, of which about 300 are already spoken for. I talked to GM Adrian Hanauer at last Saturday's home match and they will be looking into ways this week to add more seating or standing room to accommodate as many fans as possible.
Ex UW Husky Jason Boyce was signed during the previous road trip and started Saturday v. Indiana. Apparently GK Carlos Castenallos has been released as he no longer appeared in the match day squad list, nor on the Sounders site roster.
July 1, 2002 -- added some "artifacts" pages to the History page. Mostly NASL stuff, but there's an A-League page there which I want to fill in with old kits and such.
June 28, 2002 -- The 3rd round Open Cup fixture v. San Jose Earthquakes on July 17 will be played in Seattle (according to uslsoccer.com anyway) at Interbay Stadium (adjacent to Seattle Pacific University, north of Queen Anne)!! There are only about a thousand tickets available, so call the Sounders today as this is sure to sell out quickly.
Also added a new link to the Links page for USSoccerUK, which is a new site run by Chris Bergin, who used to run the USA board at Teamtalk World. Check it out!
Added a couple of new songs in the Canada section.
June 13, 2002 -- Sounders will face Division 3 Utah Blitzz in the 2nd round of the US Open Cup, following Utah's 2-0 win over Chico Rooks in their first round match. Unfortunately, it looks like Utah will be hosting this match, to be held on June 25.
June 12, 2002 -- We have reserved a standing supporters' section behind the North goal for the July 28 home fixture v. Vancouver at Seahawks Stadium.
June 6, 2002 -- The US Open Cup bracket has been announced. Sounders will play the winner of the first round match between Utah (D3) and Chico (PDL) on Wednesday June 26. Venue has not yet been announced. Download the bracket in PDF format.
May 24, 2002 -- Sounders to play Vancouver in new Seahawks Stadium on Sunday July 28th!! Note the date change from the previous day. All tickets issued for Memorial Stadium need to be exchanged! If you hold tickets, you should have received a package in the mail from the Sounders with details and seat locations for getting new tickets. If not, then you need to contact the Sounders directly and get new tickets, as the old ones will not be honored at Seahawks Stadium.
At this point, only the lower bowl will be available (seats approx. 33K). Upper bowl will only be sold if the lower bowl sells out.
As far as the supporters section is concerned, we will be attempting to secure a section behind one of the goals for Sounders supporters. Stay tuned in the coming days for additional announcements/news on this.
Seattle Pitch is now back up and running. Check the Pitch for match reports and other news updates on the Seattle scene.
May 15, 2002 -- in yet another prime example of the USL/A-League's soap opera antics, it appears that the away fixture at Vancouver which the Sounders site and the league site state as being on Monday May 27th, is actually on Sunday May 26th!! See the revised fixture list for more details.
May 10, 2002 -- supporter section is moving to section 6 from section 16 due to the last minute home bench switch. See here for the pictorial.
May 6, 2002 -- updated results from last weekend, upcoming fixtures. Added a new song for El Paso on the song page (thanks Mark!!)
May 1, 2002 -- roster finalized, added last-minute road trip info on main page.
April 30, 2002 -- more roster additions.
April 24, 2002 -- some 2002 Roster additions.
April 23, 2002 -- Added A-League script to front page. Added more Portland songs. Keep 'em coming!!! ;-)
April 22, 2002 -- Added a new chant to the Portland section, fixed some technical errors.
April 15, 2002 -- The start times for the opener in Portland and the home match on July 12th v. Calgary have changed to 8:00pm PDT. This is to accommodate FOX Sports World's USL TV schedule. See 2002 Fixtures for the updated list.
April 10, 2002 -- site launch!!! A rough start to this page, look for lots of stuff to be added in the near future, as well as working out the bugs and refining the page's look. For now, this is just a "get it on the Web" version. In the future, look for this site to move to a "real" server and have database search capabilities for things like past match reports, past and current players, all time results against NASL and A-League opponents, and so on.
ROAD TRIP TO PORTLAND!!! Travel to Portland on Saturday May 4th to support our lads against the SCUM on Opening Day 2002. If you're interested, email us by April 30th.
BIG ASS FLAG!!! We have a big 10' x 15' checkerboard flag being made for us this year. It should be done by the end of April, in plenty of time for the opener. We'd like to get enough people for our road trip to debut the flag in Portland!!! C'mon guys!! Otherwise, it will be for sure at the home opener on May 5th.